Building a solid foundation for future achievement – the final two years at Prep School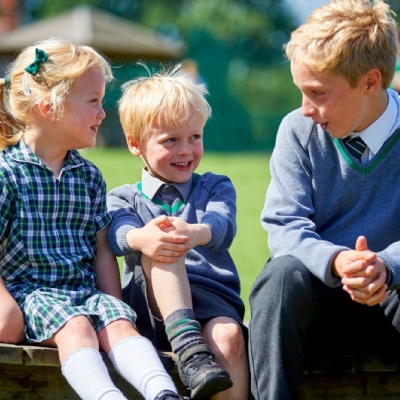 Over the years I have often been asked why the last two years of Prep School are so very valuable and enjoyable for children. With senior schools increasingly attracting children at age 11, what are the benefits to staying in the Prep school environment?
Most girls and boys will have been at their Prep school from a young age and will have moved up through the school, as generations have done before them. The culmination of that journey is when they can finally take their turn as senior pupils. Now, as 'big fish in a small pond', the children can learn important lessons about responsibility, accountability and respect. They can also discover how to lead, organise and nurture the younger members of the community.
In short, they can fulfil the aspirations that they have developed during their time at school – and gain enormously from the process.
I believe that these final two years at Prep School provide children with a real academic advantage over their counterparts in senior schools. Their progress in Mathematics, English and French in particular are notable. In fact, many ex-pupils at my school are able to take GCSE exams a year early as a direct result of the foundation that they have built with us.
It's also worth mentioning the activity and sporting opportunities that are available to children in Years 7 and 8 at a Prep School. With small numbers in each year group, many enjoy the chance to represent the school in a variety of events. This would simply not be possible in a larger senior school with three or four times as many pupils in each year to choose from.
Children moving on at the end of Year 8 are also renowned for their confidence and ability to fit seamlessly into their next schools. This, to a great extent, is due to the additional support and pastoral care they enjoy in their final two years at Prep school, as well as the broad base of education that they receive.
Over the years I have also been informed by many Senior schools that a significant proportion of pupils who move on to them at the end of Year 8 eventually achieve positions of responsibility in their final years there. They are recognisably more mature and responsible - and have a well-rounded approach to school life.
From a parents perspective there is of course the worry about Common Entrance and the perception that their children will have to pass twice to be offered a place at their senior school! This is a worry that is historically unfounded. I continue to emphasise that Common Entrance, or rather Common Exit as it should more accurately be called, is a challenge for our children to obtain the highest possible grades. Today, in the vast majority of cases, it is not remotely associated with passing or failing. In my experience the Year 8 boys and girls invariably rise to this challenge and are as a result, rewarded in a way that will only boost their self-esteem and confidence for the more demanding challenges ahead.
In conclusion, I see Prep schools with a focus on Year 7 and 8 as exactly what they are. Caring environments seeking to prepare, educate and develop the potential of children so that they have every chance to excel when they move on to their senior schools. Long may it continue!
By Adrian Perks, Headmaster, St. Andrew's School, Woking