Hearts House donation to the WWF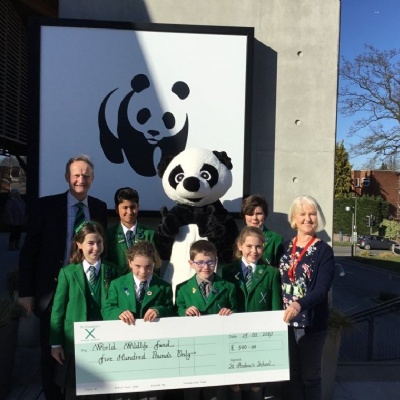 Hearts House handed over a cheque for £500 to support a new WWF 'Our Planet' initiative and TV series that will be broadcast by Netflix from April.
According to the legendary broadcaster, Sir David Attenborough, "Our Planet will take viewers on a spectacular journey of discovery showcasing the beauty and fragility of our natural world."
The money was raised by St. Andrew's pupils and parents through the Hearts House Autumn Fayre held last November. Along with an autumn themed mufti day, a cake sale and fun activities such as 'apple dunking' children enjoyed a great day of fund raising.
In return, WWF are giving Hearts the sponsorship of an orangutan and will be visiting the school to deliver a special Our Planet book later this term.
Head of Hearts and Head of Geography, Simon Lewis, said 'This is a wonderful way to support the work of WWF and shows just how much the St.Andrew's community and Hearts House in particular, cares about environmental issues and protecting our planet!'