St. Andrew's Celebrates a Global Issues Inspired World Book Day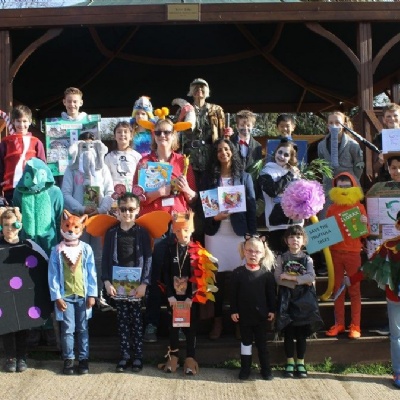 St. Andrew's School Woking celebrated World Book Day this year focussing on Global Issues and Literature throughout the school and inviting the authors An Vrombaut and Shweta Aggarwal for a day of workshops to inspire the children. World Book Day is a worldwide celebration marked in over 100 countries around the globe, encouraging children to explore the pleasures of books and reading.
Shweta Aggarwal launched her Dev and Ollie picture book series in March 2015 with the objective of introducing children to unique festivals around the world in a modern, informative and humorous manner. Shweta was winner of the Asian Women of Achievement Arts & Culture Award in 2016 in recognition for promoting inclusion. An Vrombaut is the creator, writer and co-director of the TV series 64 Zoo Lane which has been broadcast on BBC/CBeebies since 2000. An also writes and illustrates picture books – her book Smile, Crocodile, Smile winning the Nottingham Children's Book Award. An has also created a number of short films for children. The two authors gave inspiring workshops, delighting the children as they helped them to learn more about how to write and illustrate books. Staff from St. Andrew's also worked as a team to create a variety of books involving cross-curricular projects incorporating art, numeracy, literacy, ICT and PSHCE skills to inspire and motivate the children. All of the children created books to share with other year groups whilst the Year 7 and 8 children were able to interview the authors, giving them the opportunity not only to gain a valuable insight into the process of writing but also to create a video post and a magazine article.
To add a further sense of fun and drama to the occasion the children dressed as characters inspired by global issues in literature, and held a costume parade.
Mr Vitty, Year 5 Form Tutor and English Teacher, was delighted the children were able to gain such an insight from some notable authors, "An and Shweta have been such an inspiration to the children during the day and they have loved the opportunity to create and design their own books. The theme this year has also fully engaged their imagination to focus on some increasingly important global issues."
As Ms J. Wheeler, Director of Studies and Head of English, described: "It's been an inspiring and successful cross-curricular World Book Day, enthusing children through their first hand contact with authors and the process of writing and illustrating, in addition to providing them with the opportunity to work with children in different year groups creating an incredible range of exciting new books. Watch this space for the authors of the future!"